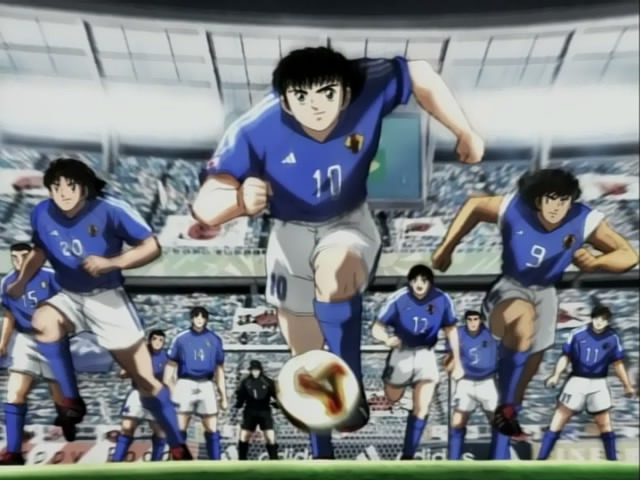 Well… This is it! The moment you've all been waiting for since September 11, 2012: the release of the final three episodes of "Captain Tsubasa: Road to 2002! It's been a long time coming, but I did what I set out to do when I took over the editing duties of this series last year. I finished it – with help, of course! As the picture I selected for this post suggests, the successful completion of this series couldn't have been done without team work! Therefore, this final release post wouldn't be complete without mentioning the names of all the people who have worked hard to bring you CT2002, so……. let the credits roll!!
First, I'll begin with the core group of people (the CT2002 team) who have worked tirelessly to bring you this series. Then, I'll mention those who filled in when they heard that the Team needed additional assistance for various reasons.
CT2002 Team
Encoder: Edward_K
Translators: sangofe, 8thSin
TLC: kokujin-kun
Timer: positron
Editor: Torianna
QC Team: Kaiser, kokujin-kun, Reed, sangofe, Tvo
Typesetters: Juggen, TheDeath, kokujin-kun
I want to give special thanks to those QCers with knowledge of football… er… soccer…. because they were able to give me the proper terminology to use and helped keep the Commentators' comments authentic.  In addition, special thanks go to sangofe (for his patience with me) and kokujin-kun (for walking me through most of the "technical difficulties" I confronted throughout this series — and there were a lot of them!)  Thanks, guys!  Couldn't have done it without y'all!!
So, as they say on American Idol, The X Factor and other similar television programs:
"Give it up for the CT2002 Team"
 They're awesome!
Now it's time for those people who filled in when the CT2002 Team needed additional help for whatever reason. All of these people worked on random episodes at some point during the time Saizen Fansubs was releasing Captain Tsubasa: Road to 2002.  Here's the list of other people who've assisted with this project:
Juggen (QC)
Kazuki (QC)
Kohn (TLC)
Lily (Editing)
Nicolai (Timing)
PharaohAnubis (Encoding)
Rosti (QC)
Sportsrmyname (QC)
Takahashi-Keisuke (QC)
Ulquyorra (QC)
Uska (Editing and Typesetting)
Yahzee (QC)
Zef (TLC)
Well… That's quite a list, but I'm sure there were others that I'm forgetting – especially since so many groups have worked on this series. Here's a list of these groups from start to finish:
Infusion (Episodes 1-12)
Saizen & SD Project (Episodes 13-19)
Saizen (Episodes 20-26)
Saizen & SHS (Episodes 27-52)
Note: Since so much time has passed since the first episode was released, time may not have been good to us – as far as remembering all of the names that should be included in this release post. So, please forgive me if I inadvertently left out someone. Feel free to send me any names of those who weren't mentioned but should have been.
On behalf of the entire CT2002 Team (past and present), I want to thank you for sticking with us for our releases of Captain Tsubasa: Road to 2002. I hope you've enjoyed this series AND the other Tsubasa releases (Captain Tsubasa J and a couple of movies) that we've had during lulls in the CT2002 releases.
Speaking of movies, I hear that there's at least one more movie in the works, and it's about "The Junior World Cup", an event that's been mentioned in CT2002.  So… keep checking back for its release date.
Now, you may download and enjoy the three remaining episodes in this series. Heck! Why not enjoy a CT2002 Marathon! Might be enjoyable since I hear the Japanese "football" (I'm tired of using "soccer" to refer to this sport) players have been seeing some action in recent days. I know Chelsea FC (from the British Premier League) has played a match or two in Japan within the past week. Anyway… I'm now rambling, so I'll close this – the very last – release post for Captain Tsubasa: Road to 2002. I've really enjoyed myself while working on this project. Sad to see it end, but happy that it's finally finished! Enjoy!!

[Saizen_&_Shinsen-Subs]_Captain_Tsubasa_Road_to_2002_-_50_[DVD][6F39ACBE].mkv
MD5: 65233B288D82350D61175049070BC957

[Saizen_&_Shinsen-Subs]_Captain_Tsubasa_Road_to_2002_-_51_[DVD][995DE1C7].mkv
MD5: 8887A9125386EC43C64F5C1C2A21B0B8

[Saizen_&_Shinsen-Subs]_Captain_Tsubasa_Road_to_2002_-_52_[DVD][FCE9EC3E].mkv
MD5: 5705C2C2FCB67E5FBC0BFED856C3355B