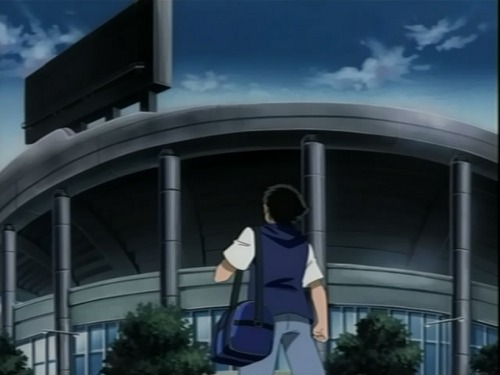 The title of this post should probably include the word "finally", but I won't add it up there.  Instead…  Suffice it to say that the moment you CT2002 fans have been waiting for has FINALLY arrived — the release of episode 36, the next episode documenting Tsubasa's journey.
In this ep, Tsubasa leaves the Brancos in search of another stage, and his timing turns out to be very good when he ends up at the largest stadium in Europe.  "What's the name of that stadium?" you may ask.  I'm not going to tell you!  You'll have to download and watch this ep to answer that question yourself.  All I'm going to tell you is that it's an impressive-looking stadium!
Speaking of timing… I'm happy to report that the timing of releases for this series should be picking up very soon, so please start checking back for more exciting episodes of CT2002.  Thanks for being patient during this long drought — no CT2002 releases since ep 35 way back in January.  If all goes well, there shouldn't be any more long periods of time with no Tsubasa excitement.
Having said all this, I won't keep you any longer.  Now, go download this ep of Captain Tsubasa: Road to 2002 and watch it.  Then, tell me what you think about the impressive stadium that accompanies this release post.  Wouldn't you just love to watch a match there?!

[Saizen_&_Shinsen-Subs]_Captain_Tsubasa_Road_to_2002_-_36_[8EAFC67C]
MD5:  293a8dfc7d34ef1896d3606c1bfcfe54