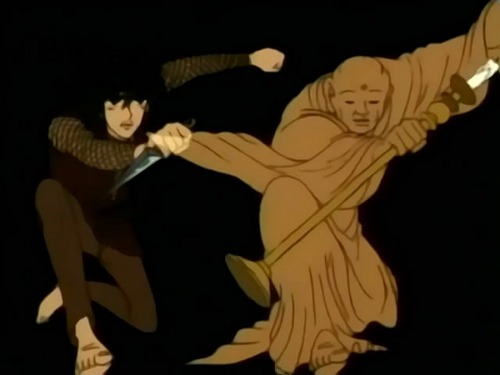 The Pose-Like-A-Ninja-Buddha-Statue World Championships has entered its final day after a thrilling two weeks of competition and our hero, Igano, has made it through to the semi-finals with a wondrous display of patience and athleticism. He's wowed the crowd with his special techniques ("Poking Out From Behind A Tree," etc.) and he now faces his toughest opponent yet. But who is this mysterious contender? Find out in another gruelling instalment of Igano Kabamaru, Saizen's number one ninja comedy.
PUBLIC SERVICE ANNOUNCEMENT: We are still looking for extra Quality Checkers for this series, so if you enjoy the zany antics of Kabamaru and crew, and you know your comma splices from your conjunctions, drop us a line on rizon in #saizen. We look forward to hearing from you soon!

[Saizen]_Igano_Kabamaru_-_15_[6BC1402D].mkv
MD5: 026338F99DB770F9F1A9786599C46427
This entry was posted on Saturday, March 17th, 2012 at 1:05 pm and is filed under Releases, Igano Kabamaru.
15 Responses to "Igano Kabamaru – 15"
Meta

Recent Comments

Categories

Links

Archives