Hi, merry followers of Saizen! Here in Saizen, we're always looking out for potential projects to fill the void when our current ongoing series have ended. At the moment, with Igano, Ashita no Joe, Captain Tsubasa and Yawara all being pretty much midway through, there's no rush for us to pick up any more series – and in fact, it'd probably put too much strain on the group to produce any more series. But one series has caught our eye that we would potentially like to produce subs for in the near future (Read: when any of those series ends). I present Sasuke: a popular series made in the late 60s about a young ninja who's on the run because he and his father have been charged with war crimes. The penalty: death.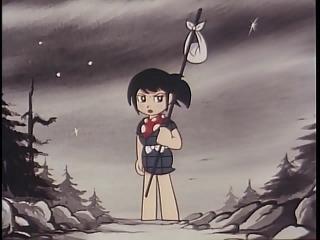 This series was a precursor to a lot of ninja series you see nowadays and there's no doubt that shows like Naruto owe a lot to Sasuke. The only issue we're having is this 29-episode title is out of print. No DVDs are currently on sale except for ridiculously high secondhand prices on amazon.jp. So we thought we'd give this a try – if there's anyone out there who already has the DVDs, we are requesting the ISO's so that we can produce a good sub of it for all the wonderful people who download our junk. There was an Italian version released at some point, as far as we can tell, so that might make the raws easier to come by, but unfortunately without the raws, Saizen's hope of subbing this series will remain a pipedream.
This has been a public service announcement by Saizen. We thank you for your attention.
P.S. You can find a trailer for the series here: http://www.youtube.com/watch?v=V9h7fmy20D0 (it might spark a few memories!)