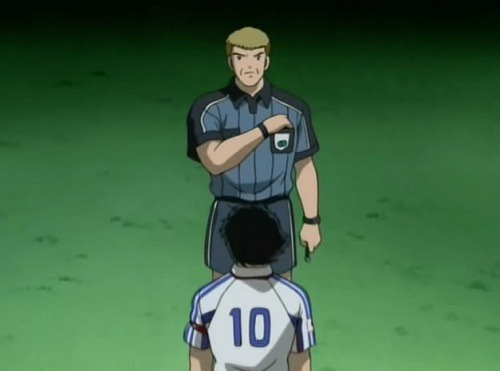 All I have to say about this ep is: It made me MAD!
If you want to find out why, you'll just have to download and watch it.
Since I'm a teacher, I've now got a "pop quiz" for you:
What colour card do you think the referee gave Tsubasa for protesting Soda's second yellow card?
What do you think made me mad while watching this episode?
Beginning with this episode, an important (and exciting) change* has been made.  What is that change?
Please post a comment with your answers to the questions from this "pop quiz", and remember:
NO CHEATING!
😛
Before you get to work, I'd like to  introduce our two newest staff members:
Ulquyorra (a QCer) and Positron (a timer).  Welcome aboard, guys!
* (I'll tell you more about the change in the next release post.)
Okay, now download this ep, take your quiz, and have fun!

[Saizen_&_Shinsen-Subs]_Captain_Tsubasa_Road_to_2002_-_27_[DVD][08845AB5].mkv
MD5: 2D5E5F506F554FB91DAA0426FBD59A6B