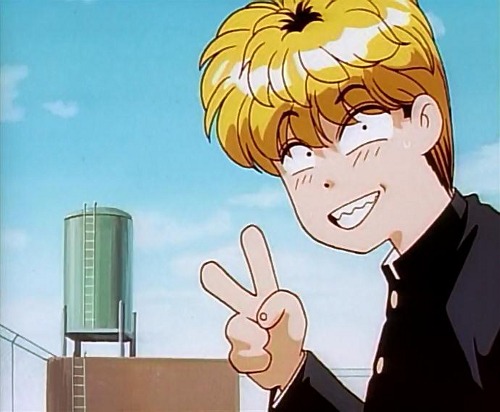 And so, another new project hits the ground running. Kyou Kara Ore Wa!! (a.k.a Starting Today, I'll!) is a 10-ep set of OVAs that spanned from 1993 right through to 1997 (hopefully we won't take that long to sub it for you!). We've teamed up with our friends over at Yabai to bring you this hilariously foul-mouthed romp through high school deliquency and we sure hope you enjoy it. The first episode is an hour long, whereas the later episodes are 45 minutes, but they'll fly right by and if you're anything like me, you'll get to the end hungry for more (so we'll try not to stall the next episode for too long!).
WARNING: The following video has been given a 15+ rating by the Saizen Internal Ratings Board (SIRB) due to frequent uses of strong language and comic violence.
DISCLAIMER: Any signs you find in Italian are sadly hardsubbed, and are found on the Italian DVDs that we are using.
This release requires the latest CCCP codec pack installed. You can get it through the link to the left of the torrent link below.

[Saizen-Yabai]_Kyou_Kara_Ore_Wa!!_-_01_[DVD][F0AE3113].mkv
MD5:
5437CF59A63AE3568F6F5B10A2DE68D5