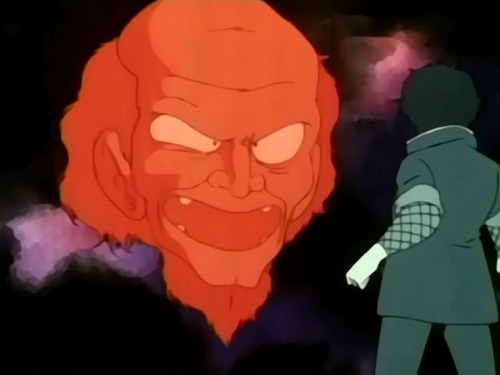 Hello, all you Igano fans. This week, Kabamaru has been reading The Divine Comedy and has been inspired to follow in the footsteps of its hero and descend into the lower regions of Hell. Everything was going swimmingly in this monochrome world (aside from a little altercation with the ferryman, but that's another story) until the final boss fight music started and down floated the glowing-red disembodied head of his grandfather. Turns out that Saizou won a talent competition to be Satan, so he's gonna kick Kabamaru's undead ass from here to Hades. Will Kabamaru win his freedom back to the world of the living? Will we ever find out if there's a tenth circle of Hell? And how exactly does Saizou hold the Devil's pitchfork without any hands anyway? All these questions and less are answered in Episode 13 of Igano Kabamaru.

[Saizen]_Igano_Kabamaru_-_13_[30CBC861].mkv
MD5: 0DA8A064E030E798F2C8FD1C82C218D4
This entry was posted on Friday, February 10th, 2012 at 1:49 pm and is filed under Releases, Igano Kabamaru.
3 Responses to "Igano Kabamaru – 13"
Meta

Recent Comments

Categories

Links

Archives