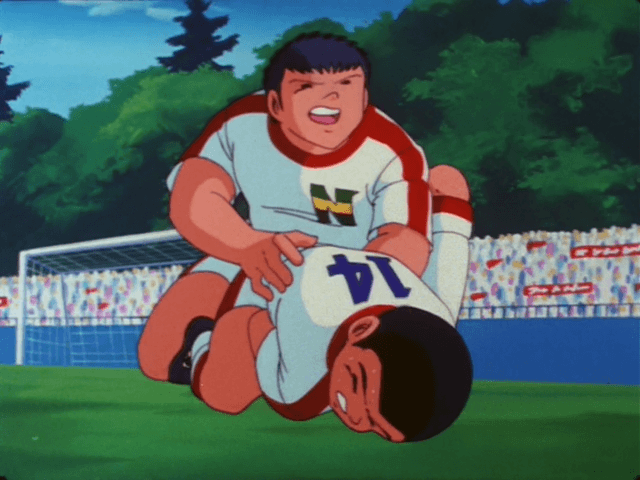 It looks like our favourite pairing Tsubasa-Hyuga is history now. As you can see, a new bromance has been developing through the last 128 episodes which went pretty much unnoticed.
In order to find out all about it, watch this episode!
So we finally reached the last episode of this classic football anime! It still feels unbelievable that our years of hard work are at an end. I would like to thank every member of our awesome team who worked on Captain Tsubasa. Special thanks to sangofe who got me on this project and to kokujin-kun, who helped keep me sane when everything seemed dark and hopeless, and when I was feeling like poor Ishizaki here.
You guys are the best team ever!
Here comes the long list of people who have helped with the series. Italicized names are the staffers who did the most on this, and our special thanks go to them!
Translators: Japanese – English
Darth, ninja009, Onibaba, MohoKareshi
Translators: French – English
sangofe, dumuzi, blackquill 
Translators: Spanish – English
Luurah, Eternal_Blizzard
Translation Checkers:
Ladholyman, Tvo, kokujin-kun, onibaba, blakbunnie27, tenkenX6, convexity
Timers:
ninjacloud, isakasan, KmE, Sangofe, Eternal_Blizzard, seboo
Karaoke:
kokujin-kun, Juggen
Editors:
Treize, FD, konnakude

Typesetters:
MadMaxBoy, KmE, zegond, kokujin-kun
Raw Providers:
Puto, Nani?!
Encoders:
Puto, Nani?!
R2IT Audio Ripping:
Puto
Audio Remastering:
GonbeFAN, Puto, AnonymousSoundSyncerAndScreenshotSender
Distro:
[M]-V
Quality Checkers:
SaberWorld, Treize, Tvo, Puto, Kaiser, Ephemere, Blackshads, Sucionny, DaVince, sangofe, Will_Smith, kokujin-kun, osage, Eternal_Blizzard, Sludge, Faku1810, Luurah, Pheon18, Nanami, Ironman, MizunoKamo, Ayanami-, FD

[Saizen]_Captain_Tsubasa_-_128_[DVD][4DF0C319].mkv
MD5: 4282fcf444c62d1c71ca3f4d12e1dcfa

Whole series batch:

[Saizen-Frenchies]_Captain_Tsubasa_(1983-1986)_001-128_[DVD]
MD5: n/a